OneNote
Learn by doing—not watching—with interactive simulations.
Course Includes
Certificate of Accreditation
5.0 Credit Hours
Interactive Tutorials & Skills Assessments
Student manual, instructor guide, & practice files
What you'll learn:
Capture rich meeting notes and ideas in a digital notebook.
Add links, images, screen clips, tables, lists, and drawing to your notes.
Organize, share, sync, and find notes quickly.
Attach files, spreadsheets, or Outlook meeting information.
Proven Learning Method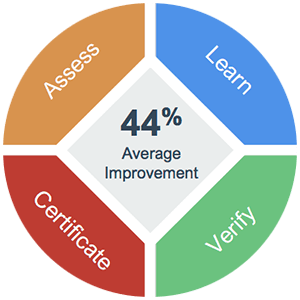 Skill
Assess
Learn
Verify
Improvement

OneNote

Complete Course to Display Score

Understand the Screen

Click To Try

Not Started
Not Started
Not Started
The Quick Access Toolbar
Not Started
Not Started
Not Started
Change Views
Not Started
Not Started
Not Started
Search Notes
Not Started
Not Started
Not Started
Print
Not Started
Not Started
Not Started
Help
Not Started
Not Started
Not Started
Open and Create
Close, Exit, and Delete
Sections
Section Groups
Pages and Subpages
Notebook Properties
Recycle Bin
Notebook Backup
Type Notes
Write Notes
Write Equations
Edit Written Notes
Tag Notes
Quick Notes
Screen Clippings
Link Content
Insert Images
Record Content
Tables
Format Text
Format the Background
Styles
Lists
Time Stamp Notes
Paper Size and Margins
Spell Check

Templates

Subscribe to unlock

Use an Existing Template
Custom Templates
Set a Default Template
Send Notebook Content
Add Files
Embed a Spreadsheet
Convert a Table to a Spreadsheet
Add Outlook Meeting Details
Send Notes with Outlook
Outlook Tasks
Export Notebooks
Create Shared Notebooks
Share Content
Sync Changes
Review Changes
Stop Sharing
Password Protection
Versions