Excel 2013 Advanced
Learn by doing—not watching—with interactive simulations.
Course Includes
Certificate of Achievement
Interactive Tutorials
Skills Assessments
Student manual, instructor guide, & practice files
What you'll learn:
Master PivotTables & PivotCharts to summerize large amounts of data.
Record macros to automate repetitive tasks.
Build advanced formulas using IF, SUMIF, VLOOKUP, HLOOKUP, and more.
Analyze complex data using What-If Analysis and Goal Seek.
Try sample lessons in the course outline shown below!
Proven Learning Method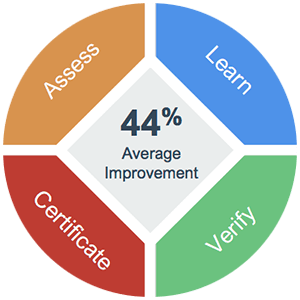 Skill
Assess
Learn
Verify
Improvement

Excel 2013 Advanced

Complete Course to Display Score

Create PivotTables

Click To Try

Not Started
Not Started
Not Started
Add Multiple PivotTable Fields
Not Started
Not Started
Not Started
Change a PivotTable's Calculation
Not Started
Not Started
Not Started
Add Calculated Fields
Not Started
Not Started
Not Started
The GETPIVOTDATA Function
Not Started
Not Started
Not Started
Filter PivotTables
Not Started
Not Started
Not Started
Timelines
Not Started
Not Started
Not Started
PivotTable Layout
Not Started
Not Started
Not Started
Group Values
Not Started
Not Started
Not Started
Refresh a PivotTable
Not Started
Not Started
Not Started
Format a PivotTable
Not Started
Not Started
Not Started
Create PivotCharts
PivotChart Options
PivotChart Styles
Drill-Down Data
Formula Errors
The Watch Window
Evaluate Formulas
Customize Conditional Formatting
Conditional Formatting with Formulas
Manage Conditional Formatting
International Currency and Formats
Body and Heading Options
Color Formats
Custom Themes
Form Controls
Save Form Templates
IF Function
Nested Functions
AND, OR, and NOT Functions
SUMIF, AVERAGEIF, and COUNTIF Functions
VLOOKUP
HLOOKUP
INDEX and MATCH
UPPER, LOWER, and PROPER
RIGHT, LEFT, and MID
Formula Calculation Options
Goal Seek
Scenario Manager
Consolidate Data

Macros

Subscribe to unlock

Enable Macros
Create Macros
Modify Macros
Copy Macros