Access 2019 Intermediate
Learn by doing—not watching—with interactive simulations.
Course Includes
Certificate of Achievement
Interactive Tutorials
Skills Assessments
What you'll learn:
Learn how to create a relational database with multiple tables.
Create powerful queries to find, update, append, and delete records.
Add professional forms and reports to your database.
Analyze and summarize database information with queries and reports.
Try sample lessons in the course outline shown below!
Proven Learning Method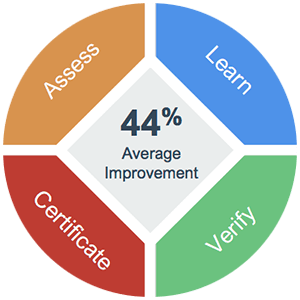 Skill
Assess
Learn
Verify
Improvement

Access 2019 Intermediate

Complete Course to Display Score

Table Relationships and Relationship Types

Click To Try

Not Started
Not Started
Not Started
Create Relationships Between Tables
Not Started
Not Started
Not Started
Enforce Referential Integrity
Not Started
Not Started
Not Started
Print and Delete Relationships
Not Started
Not Started
Not Started
Create a Query
Hide, Remove, and Sort Fields
Use AND and OR Operators in a Query
Create a Multiple Table Query
Create a Calculated Field
Work with Expressions and the Expression Builder
Format Fields within Queries
Use an IIF Function
Summarize Groups of Records
Display Top or Bottom Values
Parameter Queries
Find Duplicate Records
Find Unmatched Records
Crosstab Queries
Delete Queries
Append Queries
Make-Table Queries
Update Queries
Create a Form with the Form Wizard
Create and Use a Form
Modify a Form in Layout View
Form Design View Basics
Change the Tab Order
Work with Control Properties
Work with Form Properties
Change a Controls Data Source
Create a Calculated Control
Change a Controls Default Value
Create a Subform
Work with and Modify Subforms
Create and Modify a Navigation Form
Create a Report
Use the Report Wizard
Use the Label Wizard
Work in Layout View
Format Fonts
Copy Formatting
Change Text Alignment
Insert a Logo and Background Image
Adjust Page Margin and Orientation
Add Page Numbers and Dates
Group and Sort
Summarize Data using Totals
Understand Report Sections
Use Conditional Formatting
Work with Number Formatting
Use Themes
Import Information
Export Information
Link External Information
Mail Merge Records to Word
Use Hyperlink Fields
Database Object Dependencies
Compact and Repair a Database
Convert an Access Database
Back Up and Restore a Database
Password Protect a Database
Split a Database