Google Slides
Learn by doing—not watching—with interactive simulations.
Course Includes
Certificate of Accreditation
4.0 Credit Hours
Interactive Tutorials & Skills Assessments
Student manual, instructor guide, & practice files
What you'll learn:
Create beautiful presentations with images, tables, charts, and diagrams.
Adjust slide layouts and organize slides within your presentation.
Add transitions and animations to bring your presentation to life.
Deliver a presentation using pointers, timer, & presenter notes.
Proven Learning Method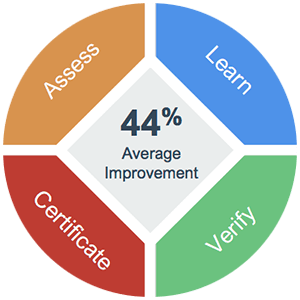 Skill
Assess
Learn
Verify
Improvement

Google Slides

Complete Course to Display Score

Create Presentations

Click To Try

Not Started
Not Started
Not Started
Open a Presentation
Not Started
Not Started
Not Started
File Management
Not Started
Not Started
Not Started
Print Presentations
Not Started
Not Started
Not Started
Get Help
Not Started
Not Started
Not Started
Add and Lay Out Slides
Cut, Copy, and Paste
Undo and Redo
Find and Replace
Add Speaker Notes
Add Slide Numbers
Move and Skip Slides
Duplicate and Copy Slides
Change Views
Format Text
Borders and Shading
Format Lists
Insert Links
Copy and Clear Formatting
Use Themes
Insert and Edit Shapes
Insert Images
Edit Images
Arrange Objects
Format Objects
Apply Slide Transitions
Add Animations to Objects
Insert a Text Box
Insert Charts
Insert Tables
Insert Diagrams
Insert Word Art
Insert Videos
Present a Slideshow
Use Slideshow Tools
Use Presenter View
Download and Email Presentations
Share Presentations
Collaborate
Work with Versions
Add-Ons