Adobe Captivate
Learn by doing—not watching—with interactive simulations.
Course Includes
Certificate of Accreditation
4.0 Credit Hours
Interactive Tutorials & Skills Assessments
Student manual, instructor guide, & practice files
What you'll learn:
Author engaging eLearning courses with graphics, media, and interactions.
Use Highlight Boxes, Mouse Animations and Zoom Areas to draw learners' attention.
Polish your project with Object Effects, Animations, and Transitions.
Build Question Pools and Quizzes to assess knowledge transfer.
Proven Learning Method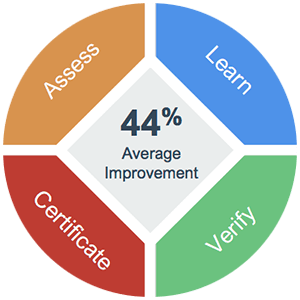 Skill
Assess
Learn
Verify
Improvement

Adobe Captivate

Complete Course to Display Score

The Captivate Interface

Click To Try

Not Started
Not Started
Not Started
Create New Projects
Not Started
Not Started
Not Started
Open and Save Projects
Not Started
Not Started
Not Started
Create Slides
Not Started
Not Started
Not Started
Modify Objects
Not Started
Not Started
Not Started
Use the Timeline
Not Started
Not Started
Not Started
Use the Master Slide
Not Started
Not Started
Not Started
Preview a Project
Not Started
Not Started
Not Started
Insert and Format Text
Text Alignment and Margins
Use Text Styles
Insert a Text Entry Box
Insert and Edit Shapes
Align and Arrange Objects
Use Object Styles
Insert and Edit a Picture
Insert Characters
The Project Library
Adjust Object Timing
Highlight Boxes
Mouse Animations
Zoom Areas
Buttons
Button Actions and Options
Smart Shape Buttons
Click Boxes
Use Advanced Actions
Learning Interactions
Import Audio
Record Audio
Edit and Delete Audio
Export Audio
Use Text-To-Speech
Use Closed Captioning
Insert Video
Add Effects to Objects
Text Animations
Use Transitions

Quizzes

Subscribe to unlock

Insert Question Slides
Insert Knowledge Check Slides
Use a Question Pool
Quiz Preferences
Project Settings
Modify the Project Skin
Publish a Project