Outlook 2021 Intermediate
Learn by doing—not watching—with interactive simulations.
Course Includes
Certificate of Accreditation
3.0 Credit Hours
Interactive Tutorials & Skills Assessments
Student manual, instructor guide, & practice files
What you'll learn:
Create rules to trigger automate tasks to incoming mail.
Save frequently used message content as Quick Parts for ease of reuse.
Recall messages, redirect replies, and archive old emails.
Stay on top of action items with tasks and notes.
Proven Learning Method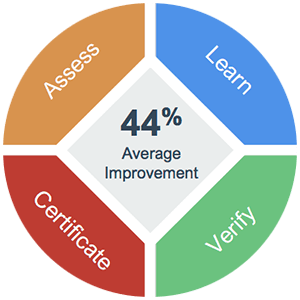 Skill
Assess
Learn
Verify
Improvement

Outlook 2021 Intermediate

Complete Course to Display Score

Follow Up with Emails
Create and Complete Tasks
View Tasks
Recurring Tasks
Assign Tasks
Create and Organize Notes
Quick Steps
Quick Parts
Redirect Replies
Recall Messages
Create a Rule
Manage Rules
Advanced Find
Save Messages in Alternate Formats
Customize Response Formatting
Share Your Email
Themes and Stationery
Email Settings
Add Additional Accounts
Manage Additional Accounts
Track and Vote
Schedule Meeting Rooms
Forward Calendar Items
Share your Calendar
Send your Calendar
Work with Multiple Calendars
Calendar Settings
Use Categories
Folders
Search Folders
View Old Mail
Clean Up Messages
Archive Information
Export Information
Import Information