PowerPoint 2013 Intermediate
Learn by doing—not watching—with interactive simulations.
Course Includes
Certificate of Accreditation
5.0 Credit Hours
Interactive Tutorials & Skills Assessments
Student manual, instructor guide, & practice files
What you'll learn:
Create beautiful presentations with images, tables, charts, and diagrams.
Add transitions and animations to bring your presentation to life.
Manage Slide Masters to control the formatting of your layouts.
Record and narrate a slideshow that can be run on its own.
Proven Learning Method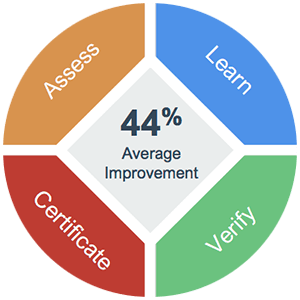 Skill
Assess
Learn
Verify
Improvement

PowerPoint 2013 Intermediate

Complete Course to Display Score

Themes

Click To Try

Not Started
Not Started
Not Started
Format Text
Not Started
Not Started
Not Started
Format Lists and Columns
Not Started
Not Started
Not Started
Hyperlinks
Not Started
Not Started
Not Started
Copy Formatting
Not Started
Not Started
Not Started
Slide Background
Not Started
Not Started
Not Started
Customize Themes
Not Started
Not Started
Not Started
Slide Size
Not Started
Not Started
Not Started
Templates
Not Started
Not Started
Not Started

Pictures

Subscribe to unlock

Insert Pictures
Insert Screenshots and Remove Backgrounds
Adjust Pictures
Picture Styles
Crop Pictures

Graphics

Subscribe to unlock

Text Boxes
Shapes
Edit Shapes
Format Shapes
WordArt
Align Objects
Arrange Objects
Insert SmartArt
Format SmartArt
Insert Charts
Import Charts
Insert Tables
Import Tables
Slide Transitions
Apply Animations
Modify Animations
Animation Timing
Copy Animations
Slide Master View
Work with Slide Layouts
Footers
Backgrounds and Master Graphics
Use Multiple Slide Masters
Manage Slide Masters
Handout Master
Notes Master
Insert Videos
Modify Videos
Audio
Action Buttons
Record and Narrate a Slide Show
Set Up a Slide Show