You have a few settings available in Teams to customize how it looks and works.
You can change your profile picture that other Teams users will see.
Click your profile picture in the top right.
Select Change picture.

A larger thumbnail of your current profile picture appears, with options to upload a new picture or to remove the current one.

Select Upload picture.

Select a new profile picture.
Click Open.

The preview thumbnail updates to use the newly uploaded picture.

Click Save.
Click Close.
Your profile picture is updated for Teams, and the rest of your Office 365 apps as well.
Teams' Settings window includes a variety of settings options that allow you to customize how Teams looks and works.
Click your profile picture in the top right.
Select Settings.

The Settings window opens. Several different categories are listed on the left.

General contains general settings, including the appearance theme, language settings, and application settings.
Privacy lets you select priority access contacts and toggle whether to send read receipts when you view messages.
Notifications controls what type of notifications you'll see.
Devices allows you to set audio and video devices used in meetings and calls.
Permissions sets what information apps added to Teams can access.
Calls controls how incoming calls are handled, how your voicemail functions, and lets you change your ringtone.

Select a settings category.

That category's settings will appear in the right pane.

Change the available settings.

As you update settings, they're automatically saved.

Click Close.
The new settings are in place.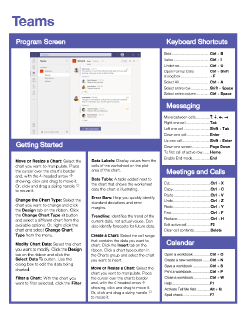 FREE Quick Reference
Click to Download
Free to distribute with our compliments; we hope you will consider our paid training.