You can use Teams to chat with other members of your organization one-on-one, or in groups.
Click the New Chat button.

Teams switches to Chat view, and a new blank chat is started.

Enter the name of the person you want to chat with in the To field, then select them from the search results.

Enter a message in the message box at the bottom of the Content pane.
Click Send.
The message is sent to the chat recipient.
While you're in Chat view, the List pane displays all the recent chats you've had. This lets you easily manage multiple chats at once and return to a recent chat quickly.
Select a chat from the Recent list.
The chat displays in the Content pane.
You can also browse your Contacts list and start a new chat with a contact there.
Click the Chat heading at the top of the List pane
Now select Contacts.
If you've never chatted with that contact before, a new chat is started. Otherwise, you're brought back to your last chat with them.
Whenever someone sends you a message, a pop-up notification will appear on-screen. This will include who the message is from, a short preview of the message, and the option to quickly reply.
Click Reply in a notification pop-up.

The Reply button changes to a text field, where you can enter a reply.

Enter a reply and click Send.

The message is sent. If you want to continue the conversation, you can view the entire chat thread.

Click a notification to view the message in context of the full thread.
The full chat thread appears in the Content pane.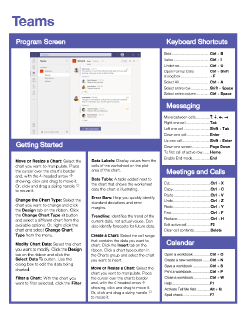 FREE Quick Reference
Click to Download
Free to distribute with our compliments; we hope you will consider our paid training.