Your chats in Teams are not limited to plain text. You can add style to your chat messages with plenty of formatting options.
Click the Format button below the chat message compose box.

Formatting buttons appear above the compose box.

Select the text you want to format.
Click a formatting option.

You can use the standard text formatting options, like bold, italic, and underline, as well as change the highlight color, text color, and font size.

(Optional) Click the More Options button to view more formatting options.

From here, you can insert a link or monospaced code snippet, change the paragraph formatting to add multiple heading levels, or even insert a table.

Click Send.
The message is sent, with the extra formatting applied.
You can also apply some basic formatting when writing a message, without having to open the Format options. Teams supports a few markdown formatting options, which lets you use some text shortcuts to apply formatting on the fly as you type.
| Formatting | Code | Example |
| --- | --- | --- |
| Bold | *Bold* | Bold |
| Italics | _Italics_ | Italics |
| Strikethrough | ~Strikethrough~ | Strikethrough |
| Link | [Link text](URL) | Link Text |
| Unordered List | * List item | List item |
| Numbered List | 1. List item | 1. List item |
You can choose to mark a chat message that you send as Important or Urgent, if it's crucial that the recipient see it as soon as possible.
Click the Set Delivery Options button below the compose box.
Select an importance level for the message.

Standard: The message will be sent as usual, showing the recipient a notification when it's received
Important: The message will be flagged as important when received.
Urgent: The recipient will receive a new notification every two minutes for 20 minutes, until the message is read.

Enter a message.
Click Send.
The message is sent and will appear as Important or Urgent to the recipient.
If your organization's culture is a bit more casual, you can send emoji, GIFs, and stickers as part of your chat messages.
Click the Emoji, GIF, or Sticker button.
Search for or browse emoji, GIF, and sticker categories.

Select an emoji, GIF, or sticker.
Click Send.
The emoji, GIF, or sticker is sent in the chat thread.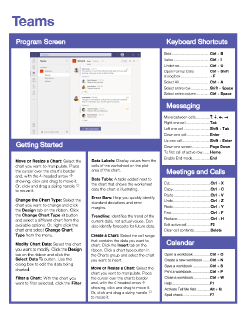 FREE Quick Reference
Click to Download
Free to distribute with our compliments; we hope you will consider our paid training.