When another person in your organization uses Teams to call you, a notification will appear on your screen. You can use the buttons that appear on the notification pop-up to answer it or decline it.
You can choose to answer an incoming call as either an audio-only call or a video call.
Click the Accept with Video or Accept with Audio button.
The call starts, and the call screen takes over the Teams window.
While you're on a call, you can place it on hold to step away from it without ending the call entirely.
The call resumes, and any video or screen sharing that was active before will be resumed as well.
If you're on a one-on-one call, you can transfer your end of the call to someone else in your organization.
While on a one-on-one call, click the More Actions button on the call controls bar.

Here, you have two ways you can transfer a call.

Consult then transfer lets you check in with someone via chat before transferring a call to them.
Transfer will transfer the call immediately to another person.

Select Transfer.

Start typing the name of the person you want to transfer the call to.
Select a person from the search results.
Click Transfer.
The call is transferred, and you're disconnected from the original call.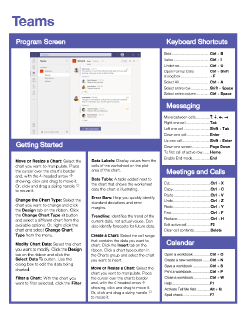 FREE Quick Reference
Click to Download
Free to distribute with our compliments; we hope you will consider our paid training.