In addition to sharing messages, you can use a team channel to share files amongst its members.
Each channel has its own file library, separate from the other channels in the team, that houses all the files that have been shared in it.
Click a channel in the List pane.
Click the Files tab.
The channel's file library appears in the Content pane.
A channel's file library looks similar to a chat's file library but has a few extra features, including the ability to create Office documents right from Teams.
While viewing a channel's file library, click the New button.

You can create a subfolder in a file library or create an Office document.

Select a file type.

Enter a file name and click Create.

An online version of the associated Office app opens up right in the Teams window. Any changes to the document are automatically saved.

Modify the document and click Close when finished.
The instance of the Office app closes, and you return to the file library.
You can also upload a file to a file library directly from your computer.
While viewing a file library, click the Upload button.

Select a file.

While you're limited to the Office file types when creating a new file, you can upload any type of file.

Click Open.
The selected file is uploaded to the file library and can be viewed by anyone in the team.
You can get a shareable link to a file library, which will send someone directly to the library without having to navigate to it.
While viewing a channel's file library, click the Get link button.

A Get link dialog box opens, with some links you can copy and share.

Select Teams or SharePoint.

Teams link: This will open the library in the Teams web app when clicked.
SharePoint link: This will open this team channel library on your organization's SharePoint site.

Click the Copy button.
The link is copied and can be pasted into a chat or email.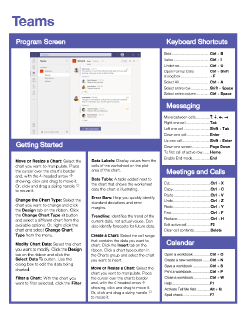 FREE Quick Reference
Click to Download
Free to distribute with our compliments; we hope you will consider our paid training.