The Activity Feed is one of the views available on the App bar. It's where you can quickly view other people's recent activity that's relevant to you, as well as your own recent activity.
Click the Activity button on the App bar.

When you first open the Activity view, it will display the Activity Feed. This feed displays all sorts of notifications involving you, such as @ mentions in team discussions, replies to threaded conversations, likes on messages, and missed calls and voicemails.

Click an item in the Activity feed to display it.
When you select an item in the Activity Feed, that item's chat or channel is displayed in the Content pane.
If you have a lot of items in the Activity Feed, you can narrow down what it shows by filtering it.
Click the Filter icon.

This menu shows the different types of activity that will appear in the feed.

Select a type of activity.

The Activity Feed is filtered, so that only the selected type of activity appears.

Click a filter to clear it.
When you clear a filter from the Activity Feed, all types of activity will be shown again.
You can also use the Activity view to display only the most recent Teams activity made by you.
Click the Feed list arrow.
Select My Activity.

Now, you can browse through the comments, replies, and the other activity that you've been up to lately.

Click an item to display it.
When you click an item in this feed, the Content pane displays the chat or channel that activity took place in.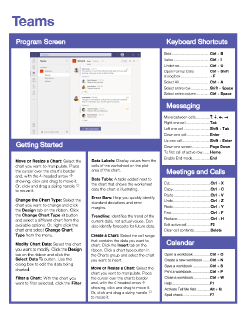 FREE Quick Reference
Click to Download
Free to distribute with our compliments; we hope you will consider our paid training.