Time Management
Learn by doing—not watching—with interactive simulations.
Course Includes
Certificate of Accreditation
2.0 Credit Hours
Interactive Tutorials & Skills Assessments
Student manual, instructor guide, & practice files
What you'll learn:
Manage your time better using proven techniques, including the Four D's of Time Management.
Cut out time wasters like interruptions, procrastination, and multitasking.
Leverage the Four Quadrants of Time Management and the 80/20 Rule to use your time efficiently.
Save time by taking control of your email and effectively using tasks and notes.
Proven Learning Method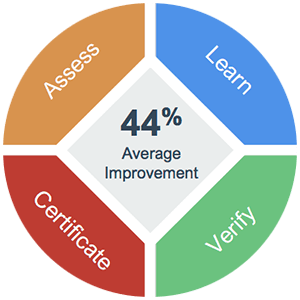 Skill
Assess
Learn
Verify
Improvement

Time Management

Complete Course to Display Score

Goals of Time Management

Click To Try

Not Started
Not Started
Not Started

The Four Quadrants

The 80/20 Rule

Multitasking

Interruptions

Meetings

Procrastination

Not Saying No

The Four D's of Time Management

Take Control of Your Email

Use Tasks and Notes