SharePoint 2016
Learn by doing—not watching—with interactive simulations.
Course Includes
Certificate of Achievement
Interactive Tutorials
Skills Assessments
Student manual, instructor guide, & practice files
What you'll learn
Use lists and libraries
Work with documents and versions.
Create and manage web pages.
Use SharePoint with Microsoft Office.
Try sample lessons in the course outline shown below!
Proven Learning Method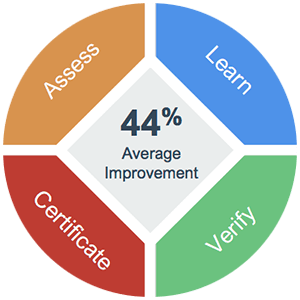 Skill
Assess
Learn
Verify
Improvement

SharePoint 2016

Complete Course to Display Score

Introduction to SharePoint

Click To Try

Not Started
Not Started
Not Started

Access and View a SharePoint Site

Not Started
Not Started
Not Started

Understand your Permissions

Not Started
Not Started
Not Started

Search

Not Started
Not Started
Not Started

Get Help

Not Started
Not Started
Not Started

Use the Recycle Bin

Not Started
Not Started
Not Started

Get Started with Lists

Add and Remove List Items

Modify List Columns

Create and Populate a Library

Sort and Filter a List or Library

Create and Modify Views

Create and Open Documents in a Library

Upload Files to a Library

Check Out Documents

View Version History

Use Alerts

Use Folders

Share Documents

Create a Page

Modify a Page

Publish and Share Pages

Manage Pages

Find Content on a Site

Create a Subsite

Manage Site Users

Change Site Themes

Add Task Lists and Tasks

Change Task List Views

Modify Tasks

Work with the SharePoint Calendar

Sync Libraries to your Computer

Save from Office to SharePoint

Use Outlook with SharePoint

Use Excel with SharePoint

Co-Author Documents in Office