Project 2016
Learn by doing—not watching—with interactive simulations.
Course Includes
Certificate of Accreditation
5.0 Credit Hours
Interactive Tutorials & Skills Assessments
What you'll learn:
Set up a project plan and track its progress.
Schedule tasks and milestones, considering constraints and deadlines.
Manage your project's work, material, and cost resources.
Generate visual dashboard, resource, cost, and in-progress reports.
Proven Learning Method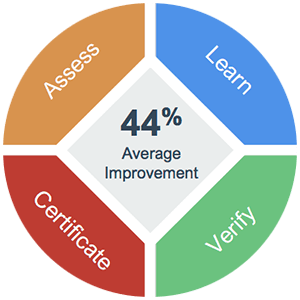 Skill
Assess
Learn
Verify
Improvement

Project 2016

Complete Course to Display Score

Understand the Screen

Click To Try

Not Started
Not Started
Not Started

Create a New Project

Not Started
Not Started
Not Started

Open and Save

Not Started
Not Started
Not Started

Set Project Information

Not Started
Not Started
Not Started

Work Days and Hours

Not Started
Not Started
Not Started

Calendars

Not Started
Not Started
Not Started

Quick Access Toolbar

Not Started
Not Started
Not Started

Print

Not Started
Not Started
Not Started

Help

Not Started
Not Started
Not Started

View Tasks and Resources

Timeline View

Split Views

Sort Information

Filter Information

Zoom

Tasks

Subscribe to unlock

Manually Scheduled Tasks

Auto Scheduled Tasks

Milestones

Link Tasks

Summary Tasks

Task Information

Insert and Delete Tasks

Copy and Move Tasks

Lag and Lead Time

Deadlines and Constraints

Task Type

Task Calendar

Split Tasks

Resources

Subscribe to unlock

Work Resources

Material Resources

Cost Resources

Resource Availability

Assign Resources

Delay Resource Start

Effort-Driven Scheduling

Resource Groups

Resource Allocation

Fixed Costs

Work Resource Costs

Baselines

Update Actual Values

Update Task Completion

Project Statistics

Variance

Reschedule Work

Reports

Subscribe to unlock

Dashboards

Resource Reports

Cost Reports

In Progress Report

Export Reports