Office 365 Essentials
Learn by doing—not watching—with interactive simulations.
Course Includes
Certificate of Accreditation
5.0 Credit Hours
Interactive Tutorials & Skills Assessments
Student manual, instructor guide, & practice files
What you'll learn:
Develop fundamental skills, including editing and formatting, that can be used across all Office applications.
Create business-ready Word documents with proper spacing, margins, and styles.
Build and format professional-looking Excel spreadsheets.
Design and deliver engaging PowerPoint presentations.
Proven Learning Method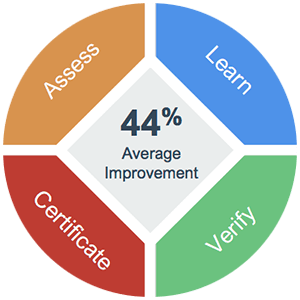 Skill
Assess
Learn
Verify
Improvement

Office 365 Essentials

Complete Course to Display Score

Office Interface

Click To Try

Not Started
Not Started
Not Started
Create Files
Not Started
Not Started
Not Started
Open Files
Not Started
Not Started
Not Started
Save Files
Not Started
Not Started
Not Started
Print
Not Started
Not Started
Not Started
Help
Not Started
Not Started
Not Started

Editing

Subscribe to unlock

Select
Edit
Cut, Copy, and Paste
Undo, Redo, and Repeat
Check Spelling
Find and Replace Text
Add Comments
Insert Links
Insert Images
Format Images
Format Fonts
Align Text
Create Lists
Borders and Shading

Word

Subscribe to unlock

Line and Paragraph Spacing
Indent Paragraphs
Adjust Page Margins
Headers and Footers
Page Numbers
Page Breaks
Create Tables
Text Wrapping
Apply Styles
Outline View

Excel

Subscribe to unlock

Select Cells and Ranges
Edit Cell Data
Insert, Move, and Delete Cells
Row Heights and Column Widths
Freeze Rows and Columns
Hide Columns and Rows
Formula Basics
Auto Fill
Sums and Averages
Format Numbers and Dates
Insert, Rename, and Delete Worksheets
Add and Populate Slides
Move, Hide, and Delete Slides
Slide Notes
Themes
Format Images
Insert and Edit Shapes
Arrange Objects
Slide Transitions
Apply Animations
Present a Slide Show