Google Docs
Learn by doing—not watching—with interactive simulations.
Course Includes
Certificate of Accreditation
4.0 Credit Hours
Interactive Tutorials & Skills Assessments
Student manual, instructor guide, & practice files
What you'll learn:
Create professional documents with images, tables, links, and lists.
Format text, align paragraphs, adjust line spacing, and set up tabs.
Share documents with a few individuals or your entire organization.
Upload and convert existing Microsoft Word files to Google Docs.
Proven Learning Method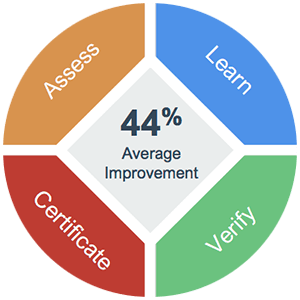 Skill
Assess
Learn
Verify
Improvement

Google Docs

Complete Course to Display Score

Create Documents

Click To Try

Not Started
Not Started
Not Started
Open a Document
Not Started
Not Started
Not Started
File Management
Not Started
Not Started
Not Started
Print Documents
Not Started
Not Started
Not Started
Get Help
Not Started
Not Started
Not Started
Select and Edit Text
Cut, Copy, and Paste
Page Breaks
Undo and Redo
Word Count and Dictionary
Check Spelling
Find and Replace
Format Text
Create Lists
Align and Indent Paragraphs
Line and Paragraph Spacing
Paragraph Styles
Copy and Clear Formatting
Tab-Stops
Columns
Page Setup
Headers and Footers
Page Numbers
Insert Images
Insert Links
Insert Special Characters
Insert Table of Contents
Insert Bookmarks

Tables

Subscribe to unlock

Insert Tables
Table Borders and Shading
Resize and Position Tables
Upload and Convert Documents
Download and Email Documents
Share Documents
Collaborate
Suggest Edits
Work with Versions
Add-Ons