Computer Basics
Learn by doing—not watching—with interactive simulations.
Course Includes
Certificate of Accreditation
2.0 Credit Hours
Interactive Tutorials & Skills Assessments
What you'll learn:
Learn the basics of how to use a computer, mouse, and keyboard.
Use toolbars and menus to complete tasks in software applications.
Open, create, save, and print files.
Select, edit, and format text and paragraphs.
Proven Learning Method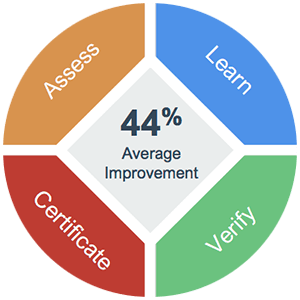 Skill
Assess
Learn
Verify
Improvement

Computer Basics

Complete Course to Display Score

Use the Mouse

Click To Try

Not Started
Not Started
Not Started

Use the Keyboard

Toolbars, Menus, and Ribbons

Create, Save, and Open Files

Select and Edit Text

Cut, Copy, and Paste

Undo and Redo

Format Text

Format Paragraph Alignment

Find and Replace Text

Print