By scheduling and conducting meetings right within Teams, you can easily work with remote colleagues online, or, meet with co-located colleagues without needing to find an available meeting room.
Meetings in Teams can be scheduled from the Calendar view.
Click the Calendar icon on the App bar.

The Calendar view displays a timeline of your work week, with any meetings that may be scheduled.

Click New meeting.

The New meeting dialog box opens, where you can add meeting details, such as a title, location, start and end time, and additional details.

Enter the meeting's details.
Select a team channel or select invitees individually.

If you choose to host the meeting in a team channel, everyone in that team will be able to join. If you instead invite people directly, it won't appear for the rest of the team.

Click Schedule.
The meeting is scheduled. It will appear on your calendar and, if it's a team channel meeting, in that channel's conversation as well.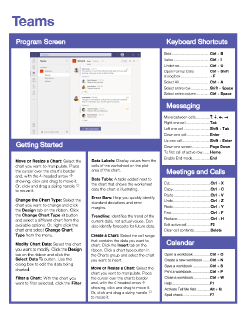 FREE Quick Reference
Click to Download
Free to distribute with our compliments; we hope you will consider our paid training.