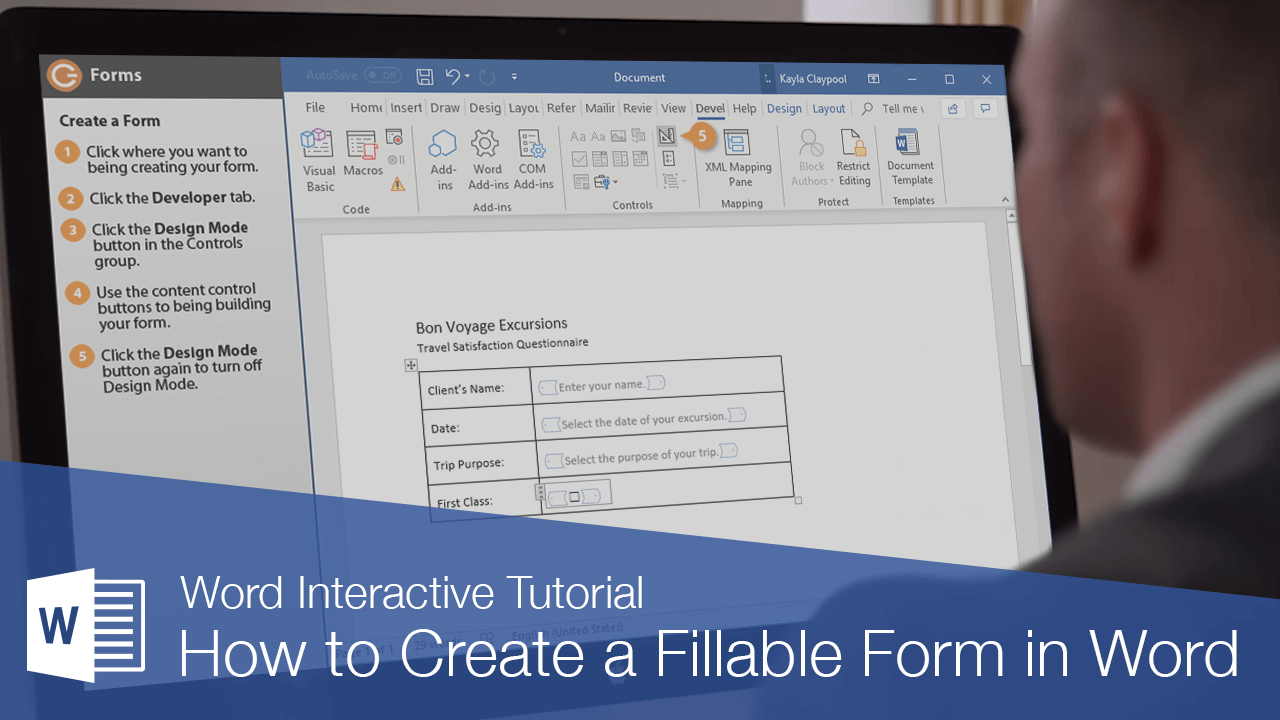 You can use Word to create interactive digital forms that other people can fill out on their computers before printing or sending them back to you. It takes a little preparation but keeps you from having to decipher messy handwriting! Some of the tools you will use when creating a form include:
Templates: Forms are normally saved as templates so that they can be used again and again.
Content controls: The areas where users input information in a form.
Tables: Tables are often used in forms to align text and form fields, and to create borders and boxes.
Protection: Users can complete the form fields without being able to change the form's text and/or design.
Before you can create a form, you'll need to turn on the Developer tab to get access to the advanced tools.
Click the File tab.

Select Options.

The Word Options window opens.

Click the Customize Ribbon tab on the left.

The column on the right controls which ribbon tabs are enabled.

Check the Developer check box.
Click OK.
The Developer tab now appears on the ribbon. In addition to advanced tools for macro recording, add-ins, and document protection, we now have access to form controls.
Once you've enabled the Developer tab, and created the layout and structure of the form, you can start adding form fields to your document with Content Controls.
Place the text cursor where you want to insert the form field.
Click the Developer tab on the ribbon.

The Controls group contains the different kinds of content controls you can add to a form, as well as the toggle button for Design Mode.

Click the Design Mode button in the controls group.

While Design Mode is active, controls you insert won't be active, so clicking a check box to move it around won't also check it. You can also customize placeholder text for some controls.

Click a Content Control buttons to insert the selected type of control.

The content control is inserted.

Select a form field and click the Properties button on the ribbon to edit a control's options. Depending on the type of control you've inserted, you can change its appearance, set up the options in a list, or lock the control once edited.

When you're done, click the Design Mode button again to exit Design Mode.
You leave Design Mode, and the content controls that you've inserted can now be used.
There are many different types of form controls you can add to a form that will allow people to add different types of responses.
Form Content Controls
Rich Text
A text input field that allows for rich text formatting.
Plain Text
A text field limited to plain text, so no formatting can be included.
Picture
Accepts a single picture.
Building Block Gallery
Shows a gallery of formatted design choices from the Quick Parts gallery.
Combo Box
Creates a list that users can edit directly.
Drop-Down List
Users choose from several selections that appear by clicking the list arrow.
Date Picker
Users select a date and the control automatically formats the date's appearance.
Check Box
Inserts a check box into a form.
Legacy Tools
Contains the form controls from previous versions of Word.
When you're ready to distribute a form so others can fill it out, you can restrict the form so that content controls cannot be removed or changed by those filling it out.
Click the Restrict Editing button on the Developer tab.

The Restrict Editing pane appears on the right.

Check the Editing restrictions check box.
Click the Editing restriction list arrow.
Select Filling in forms.

When this option is enabled, the only change that anyone else can make to this document is the filling in of form fields. They won't be able to move, delete, or edit the fields themselves until protection is turned off.

Click the Yes, Start Enforcing Protection button.

A password is not required to start enforcing protection, but you can add one if you'd like to prevent just anyone from turning this protection off.

Enter a password (optional), then click OK.
The document is now restricted, and anyone you send it to will only be able to fill in the forms.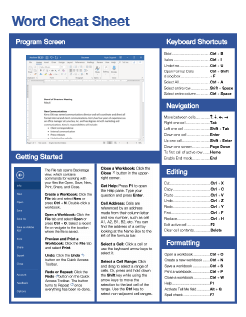 FREE Quick Reference
Click to Download
Free to distribute with our compliments; we hope you will consider our paid training.