SMART Goals
Learn by doing—not watching—with interactive simulations.
Course Includes
Certificate of Accreditation
1.0 Credit Hours
Interactive Tutorials & Skills Assessments
Student manual, instructor guide, & practice files
What you'll learn:
Create Specific, Measurable, Achievable, Relevant, and Time-bound goals.
Ask the right questions to develop goals that are easier to accomplish.
Simplify goal setting with clear-cut strategies.
Practice applying the SMART criteria to your goals and put it in writing.
Proven Learning Method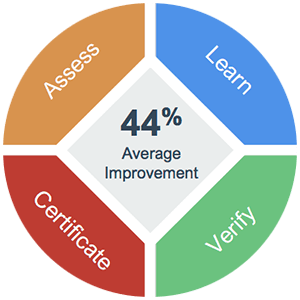 Skill
Assess
Learn
Verify
Improvement

SMART Goals

Complete Course to Display Score

Overview

Click To Try

Not Started
Not Started
Not Started

Specific

Measurable

Actionable

Realistic

Time-Bound

Apply SMART Goals