Salesforce
Learn by doing—not watching—with interactive simulations.
Course Includes
Certificate of Accreditation
5.0 Credit Hours
Interactive Tutorials & Skills Assessments
What you'll learn:
Learn to manage leads, opportunities, accounts, and contacts.
Stay on track with tasks, notes, and your calendar of meetings.
Create views, reports, and dashboards to display data.
Collaborate with your colleagues in Chatter.
Proven Learning Method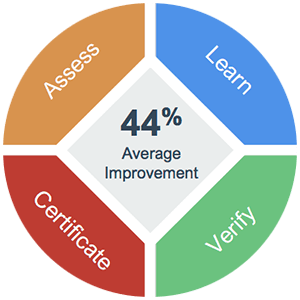 Skill
Assess
Learn
Verify
Improvement

Salesforce

Complete Course to Display Score

Understand Salesforce

Click To Try

Not Started
Not Started
Not Started
Tabs and Apps
Not Started
Not Started
Not Started
Work with Views
Not Started
Not Started
Not Started
View and Edit a Record
Not Started
Not Started
Not Started
Add Notes and Files
Not Started
Not Started
Not Started
Find Records
Not Started
Not Started
Not Started
Delete and Restore a Record
Not Started
Not Started
Not Started
Work with Tasks
Not Started
Not Started
Not Started
Work with the Calendar
Not Started
Not Started
Not Started
Profile Settings and Password
Not Started
Not Started
Not Started
Get Help
Not Started
Not Started
Not Started
Create a Lead
Convert a Lead
Create Accounts and Contacts
Log Activities
Send an Email
Create an Opportunity
Create a Quote
Clone and Close an Opportunity
Forecast Opportunities
Transfer and Share a Record
Create a View
Edit and Delete a View
Work with a Report
Create a Tabular Report
Edit and Delete a Report
Report Filters
Advanced Report Filters
Create a Summary Report
Create a Matrix Report
Work with Charts
Schedule a Report
Subscribe to a Report
Report Folders
Work with a Dashboard
Edit a Dashboard
Create a Dashboard
Clone and Delete a Dashboard
Filter a Dashboard
Schedule a Dashboard
Set Up a Dynamic Dashboard
Understand Chatter
Post to Chatter
Follow in Chatter
Mentions and Topics
Chatter Email Notifications
Duplicate Leads and Contacts
Merge Accounts
Mass Transfer Records
Import Leads