macOS
Learn by doing—not watching—with interactive simulations.
Course Includes
Certificate of Accreditation
4.0 Credit Hours
Interactive Tutorials & Skills Assessments
What you'll learn:
Work with multiple windows, apps, and desktops.
Organize files and folders with Finder.
Personalize your Mac to your preferences and adjust privacy settings.
Use iCloud, system preferences, and more.
Proven Learning Method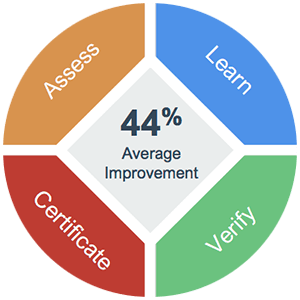 Skill
Assess
Learn
Verify
Improvement

macOS

Complete Course to Display Score

Start macOS

Click To Try

Not Started
Not Started
Not Started

The macOS Desktop

Not Started
Not Started
Not Started

Connect to a WiFi Network

Not Started
Not Started
Not Started

Notifications and the Notifications Center

Not Started
Not Started
Not Started

Use Multiple Desktops

Not Started
Not Started
Not Started

Spotlight

Not Started
Not Started
Not Started

Connect to Bluetooth Wireless Devices

Not Started
Not Started
Not Started

Share Files Between Macs

Not Started
Not Started
Not Started

Shut Down your Computer

Not Started
Not Started
Not Started

Open and Close Applications

Resize and Move Windows

Install and Uninstall Applications

Hide and Show Applications

Switch Between Applications

Application Preferences

Use Help

View Files and Folders

Organize Files and Folders

iCloud Drive

Create Aliases

Find Files

Advanced File Search

Finder Views

Compressed Folders

The Trash

Connect to Servers and Shared Computers

Share Folders

System Preferences & General Options

Use iCloud

User Accounts

Customize macOS's Appearence

Customize the Dock and the Menu Bar

Adjust the Display Scale

Mouse, Keyboard, and Trackpad Preferences

Printer Preferences

Project the Display

Make the Most of Your Battery

Back Up your Files

Update Software and macOS

Recovery Mode