Effective Presentations
Learn by doing—not watching—with interactive simulations.
Course Includes
Certificate of Achievement
Interactive Tutorials
Skills Assessments
What you'll learn:
From page to stage; learn how to give great presentations.
Create incredible content to supplement your speech.
Keep your audience entranced and informed.
Deliver an unforgettable presentation experience.
Try sample lessons in the course outline shown below!
Proven Learning Method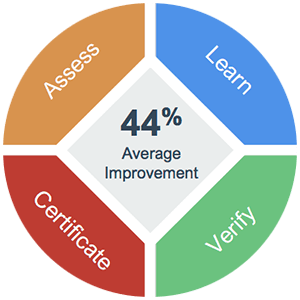 Skill
Assess
Learn
Verify
Improvement

Effective Presentations

Complete Course to Display Score

Presentation Type

Click To Try

Not Started
Not Started
Not Started

Know Your Audience

Research

Introduction

Middle

Closing

Design

Subscribe to unlock

Bullet Points

Slide Text

Fonts

Pictures

Visual Aids

Animations

Summary

Delivery

Subscribe to unlock

Be Prepared

Check Equipment

Focus on the Audience

Body Language and Tone

Time Management