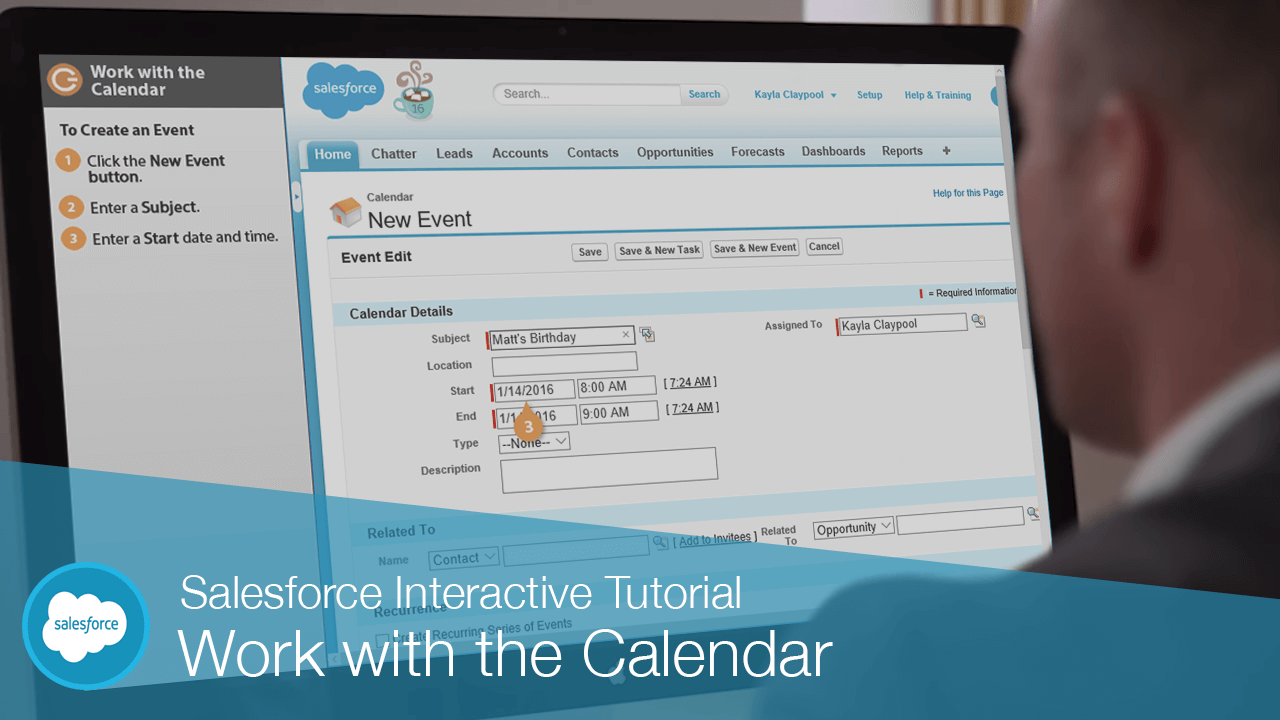 The Calendar tool is helpful when you have a busy schedule. The Calendar organizes your meetings, tasks, and important appointments.
Click the Home tab and scroll down to the Calendar section.
The Calendar section is usually located near the bottom of the page.
The Scheduled Meetings tab displays all your appointments for the next week.
As with other sections in Salesforce, you can hover your cursor over an event to display its details.
Hover your mouse over the event.
You can set reminders, make follow-up events, make edits, and even delete events quickly and easily using the calendar.
Click the event you want to open.
The event screen appears.
The event screen is where you can edit events.
Select an action for the event:

Click Edit to change the event.
Click Delete to delete the event.
Click Create Follow-Up Task to create a task related to the event.
Click Create Follow-Up Event to create a follow-up event associated with the event.
Click Add to Outlook to add the event to your calendar in Microsoft Outlook.
If you are planning on holding a meeting or hosting an event, you can create it from within Salesforce.
Click the New Event button.

Enter a subject.
Enter a start date and time.
Enter an end date and time.
Click Save.
Your new event is created.
There are a few different ways to view your schedule to best keep up with your events. You can change your schedule view by clicking one of the three view buttons.
To view your daily schedule, click the Day View buitton.

Now you can see all your events and activities for today.

Click the Week View button to view your weekly schedule.
Click the Month View button to view your monthly schedule.
Use the < > buttons to navigate through your schedule.