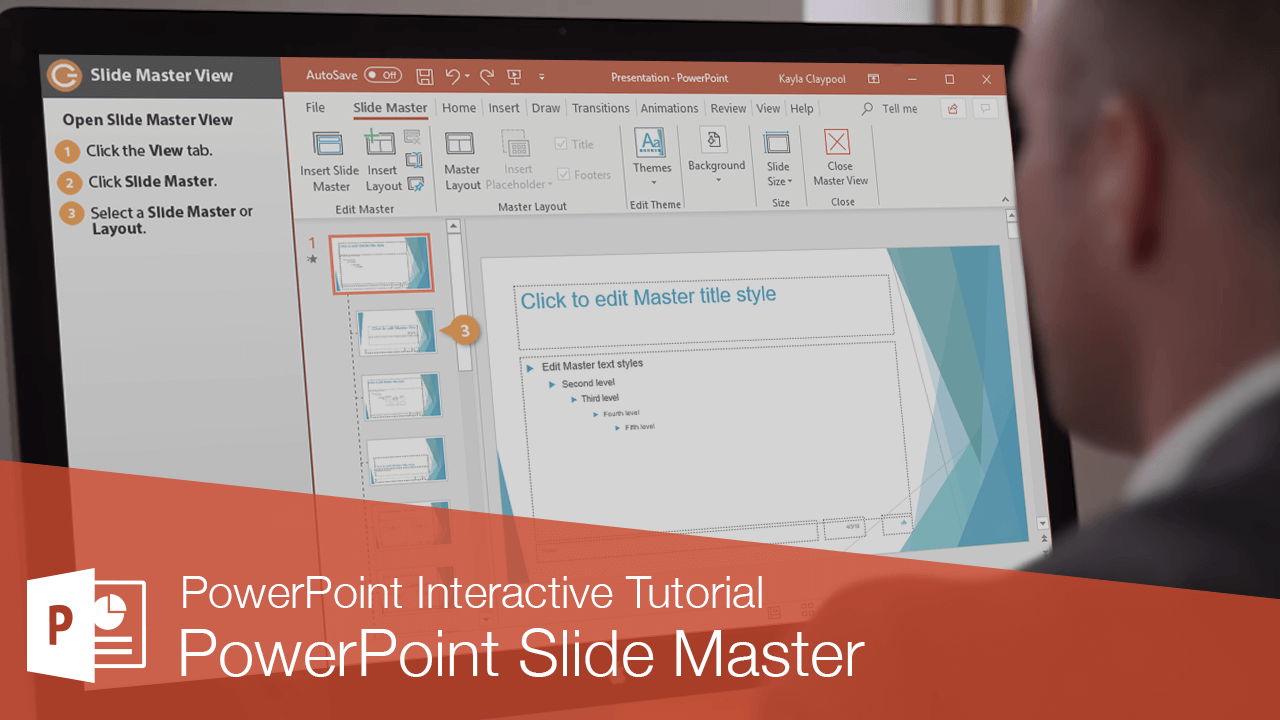 Using the slide master is the fastest and easiest way to globally set up the appearance of all the slides in a presentation.
The slide master controls all aspects of a slide's appearance, including its background color, font style, and any recurring text or pictures. Any changes you make to the slide master automatically affect all the slides in the presentation; for example, changing the background color of the slide master changes the background for every single one of your slides.
Slide layouts are sets of premade placeholders that coordinate with your chosen theme. The layouts available are determined by the theme you're using, but you can create and edit them using Slide Master view.
Click the New Slide list arrow.

The layouts seen in this menu are the default presets available in PowerPoint. These are determined by the theme you're using. If these layouts don't work for you, you can modify them or create your own.

Click outside the menu to close it.
Click the View tab.
Click the Slide Master button.

A new tab appears on the ribbon. Instead of your presentation, you now see the slide layouts that are built into the theme. Modifications made to the slide master (the large slide at the top of the list) will be applied to all of the slide layouts within the master that use that element. The smaller slides beneath the slide master represent the individual slide layouts for the theme. Modifying a slide layout in Slide Master view affects only the slides in your presentation using that layout.

Hover over the slide master or any slide layout to see which slides in the presentation are using the layout.

Select a slide master or layout.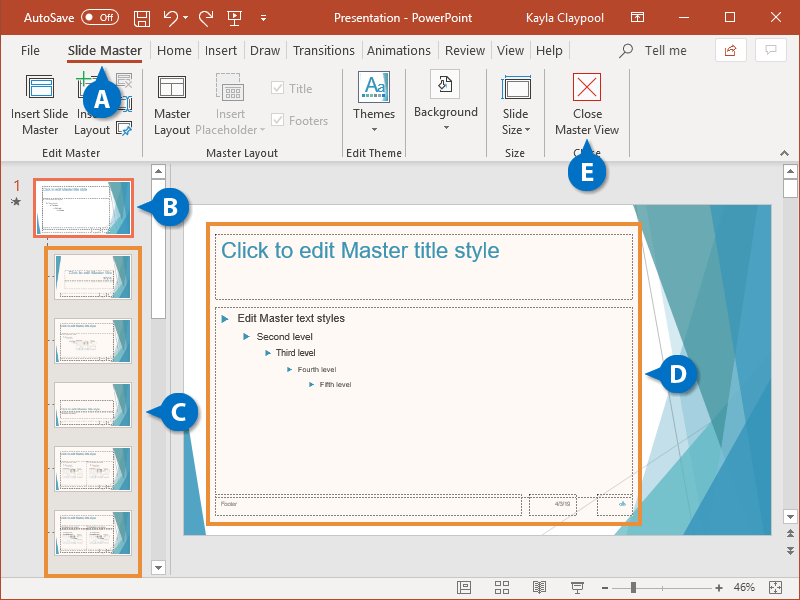 A
Slide Master tab: Contains the commands used to alter the slide master and layouts.
B
Slide Master: Controls all of the slide layouts below it. Changes you make to the placeholders or formatting on the slide master will be changed in the other layouts as well.
C
Slide layouts: Changes made to layout slides will affect any presentation slides created from that layout. Slide layouts are dependent on the theme chosen.
D
Placeholders: Allow you to add, remove, or edit placeholders or make formatting changes just like you would in Normal view.
E
Close Master View: Closes Slide Master view.
Select a slide master or layout.
Update the master or layout with the changes you want applied to all slides in the presentation that use that layout.

You can edit a slide in the Master view just like you would any other slide in the presentation, including formatting text or objects, changing alignment, adjusting placeholders, or adding additional items to the slide.
Click the Slide Master tab.
Click Close Master View.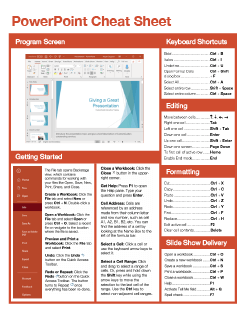 FREE Quick Reference
Click to Download
Free to distribute with our compliments; we hope you will consider our paid training.