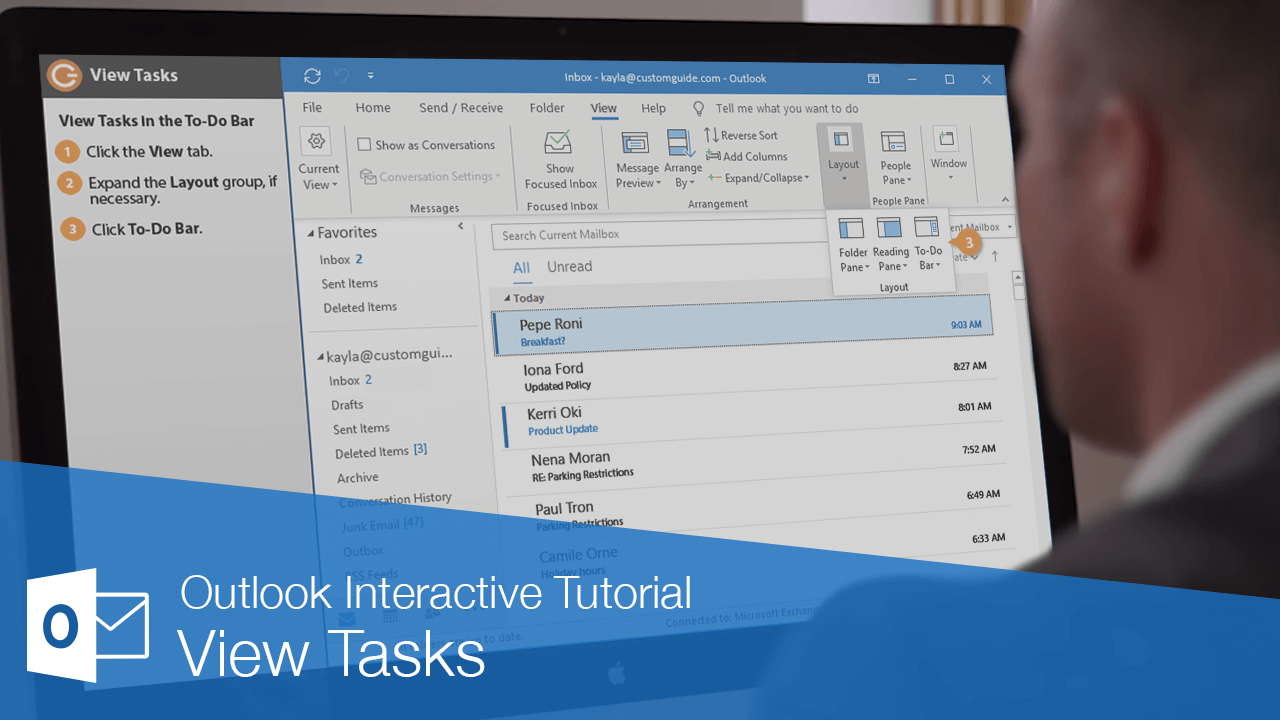 You can view tasks in several different ways in Outlook. In addition to Task view, you can enable the To-Do bar to keep track of tasks while in other views. You can also sort your tasks while in Task view.
You can view tasks and other items flagged for follow-up while in other views, such as Mail or Calendar, by enabling the To-Do bar in those views.
Click the View tab on the ribbon.
Expand the Layout group, if necessary.
Click the To-Do Bar button.
Select Tasks.
A list of tasks and flagged items appears, organized by the date they are due.
When you enable the To-Do bar, it's only enabled for the current view; meaning, if you enable it in Mail, it won't appear in Calendar. You'll need to enable it in each view separately.
To close the To-Do Bar, click the To-Do Bar button on the View tab and select Off.
In the Tasks view, you'll find two separate lists of tasks: your To-Do list and your Tasks list.
Click the ellipsis button on the Navigation pane, if necessary.
Select Tasks.

In the Folder Pane, the My Tasks header will appear with two folders by default.

To-Do List will display your active tasks (those that haven't been completed), as well as all the flagged items from your Mail, Calendar, and Contacts.
Tasks will display all of your standalone tasks, active and completed. Flagged items from Mail, Calendar, and Contacts will not be shown here.

Click a task list from the Folder Pane.
The selected task list is displayed.
While viewing your tasks, you can sort them by several different categories.
Click a column header.
The tasks are sorted by the column that you selected.
Click the column header again to view the list in reverse order.
You can quickly filter out any tasks that you don't need to see by changing the current view.
Click Change View on the Home tab.

If the Outlook window is big enough, the Change View button will be replaced with a Views gallery. Click the gallery's More button to expand it.

Each of the different views will display task items by their relevant fields, such as only tasks that are prioritized, completed, or overdue.

Select a view.
The view is applied to the task list. The following table briefly describes some common Task views.
Task View Options
Detailed
Displays all the details about each task.
Today
Displays a list of all tasks due today.
Simple List
Displays fewer details so you can see your tasks at a glance.
Next 7 Days
Displays tasks that are due in the next seven days.
To-Do List
Displays all tasks and to-do items with very little detail. Also displays the Reading Pane.
Overdue
Displays tasks that are overdue.
Prioritized
Displays a list of all tasks, in order of priority.
Assigned
Shows only the tasks that have been assigned to others, sorted by the task owner's name and due date.
Active
Displays all tasks that are incomplete.
Server Tasks
Displays a list of tasks stored on the server.
Completed
Lists all tasks that have been marked complete.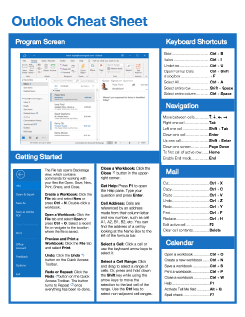 FREE Quick Reference
Click to Download
Free to distribute with our compliments; we hope you will consider our paid training.