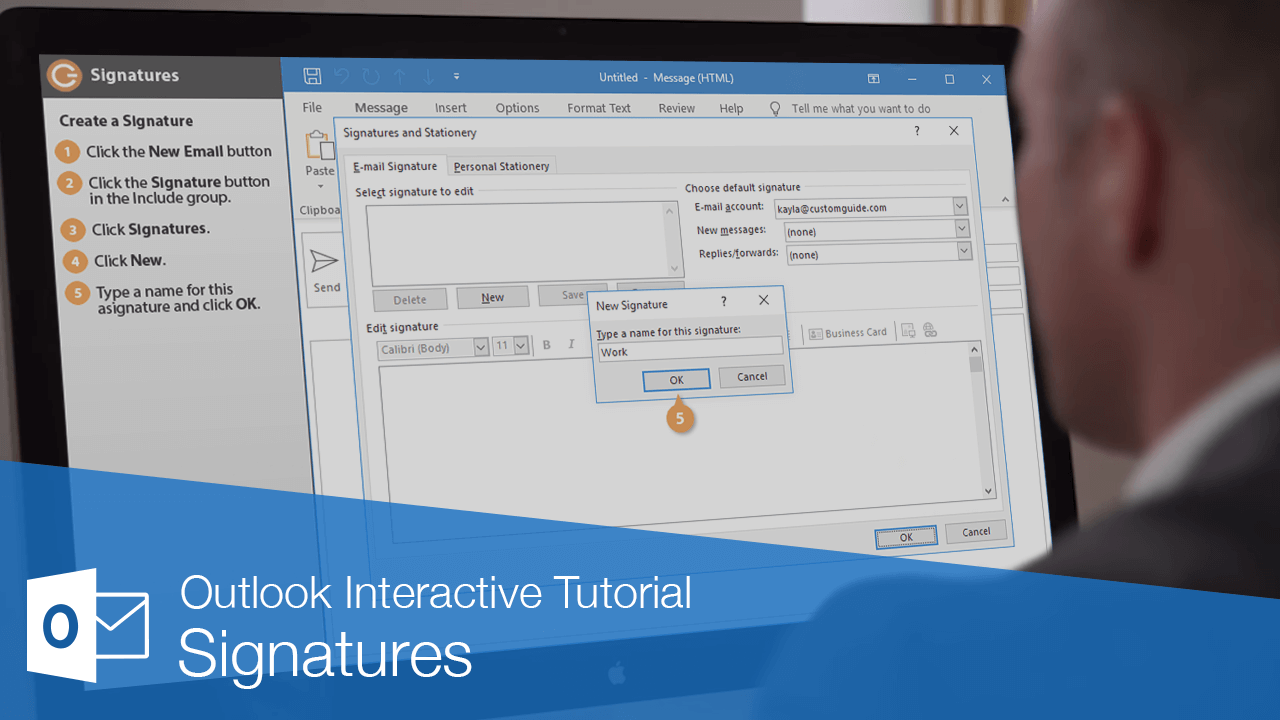 Mail signatures are reusable text or images that you can include in outgoing mail. Signatures typically provide additional methods of contacting the sender, such as website links, phone numbers, or email addresses.
First, let's look at creating a signature that you can add to your emails.
Start composing a new email.
Click the Signature button in the Include group.
Select Signatures from the menu.

The Signatures and Stationery dialog box appears.

Click New.
Type a name for this signature and click OK.
Enter the signature in the Edit signature area.

Font and formatting options let you customize your signature the way you want. You can also add pictures and hyperlinks.

Click OK.
Once a signature has been created, you can insert it into an email. It will appear at the end of the message.
From a new email, click the Signature button.
Select a signature from the menu.
Manually selecting a signature allows you to choose between multiple premade signatures.
Rather than manually inserting a signature in every email, you can make it appear by default each time you compose a new email.
From a new email, click the Signature button.
Select Signatures from the menu.

You can also access the Signatures dialog box by clicking the File tab, selecting Options, and clicking the Signatures button on the Mail tab.

Set up the options in the Choose default signature area.

You can choose a signature for each email account, new messages, or replies and forwards.

Click OK.
Now each time you create a new email, the selected signature will be used.
Email Signature Recommendations
Do Include:
Don't Include:

Your name
Your job title
Organization name (linked to website)
Phone number
A link to your LinkedIn profile, if it's relevant
A professional image of yourself or your company logo
Only 3-4 lines of text

Personal contact information
Your email address (it's already included in the From field)
Links to personal social media accounts
Inspirational quotes
More than 4-5 lines of text

Example (good):
Example (poor):
John Smith
Sales Associate, Travel Czar
612.555.1212
John Smith
Company: Travel Czar
Email: johnny_boy@gmail.com
Twitter: twitter.com/johnny_boy_lol
"Most people work just hard enough to not get fired and get paid just enough money to not quit." - George Carlin