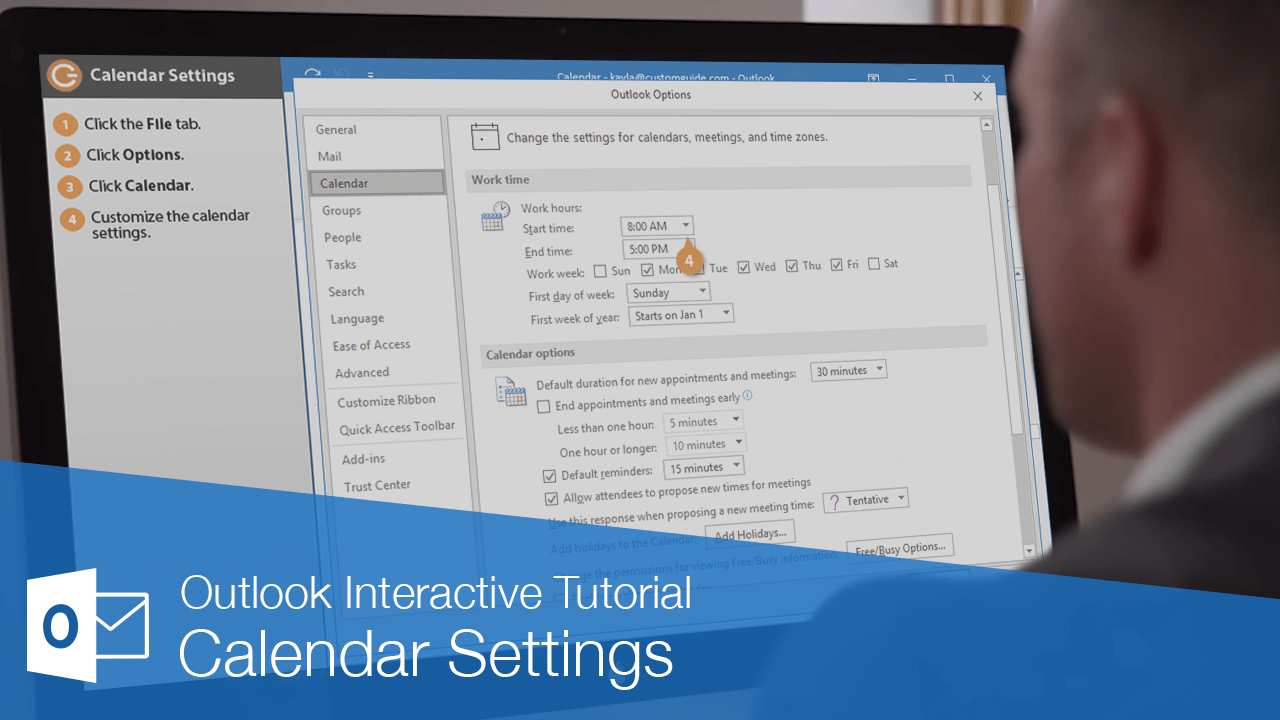 You can easily adjust the Calendar settings—like work hours, time zone, and default reminder settings—so they better fit your needs.
Click the File tab.

Select Options.

The Outlook Options dialog box appears.

Select Calendar.
Customize the calendar settings.

The table at the end of page describes the available settings.

Click OK.
The Outlook Options dialog box closes, and you're returned to the Inbox.
Calendar Settings
Work Time
These settings control how your work day and work week appear. You can adjust the start and end times for work days, select which days of the week you work, and change the first day of the week and the first week of the year.
Calendar Options
This group contains settings for changing some default calendar options. You can adjust the timing for default reminders, control whether meeting attendees can propose a new meeting time, and set the default meeting invitation response. You can also add holidays to the calendar, change the permissions levels required to view Free/Busy information, and enable an alternate calendar. You can choose whether to use the iCalendar format for meeting requests outside of your organization, and whether to display the bell icon for appointments with meetings and reminders.
Display Options
This category lets you control how your calendar appears. You can change the calendar color, toggle week numbers in Month View and the Date Navigator, and show free appointments in Schedule View. You can also choose when Outlook automatically switches between Schedule View and a vertical layout.
Time Zones
These settings let you specify and label a time zone, as well as add a second time zone.
Scheduling Assistant
This group lets you toggle calendar details in ScreenTip and in the scheduling grid.
Automatic Accept or Decline
These options let you choose whether to automatically accept meeting requests, as well as set up exceptions.
Weather
This group lets you choose whether to show the weather forecast in your calendar, and whether that forecast appears in Fahrenheit or Celsius.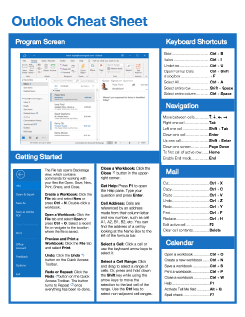 FREE Quick Reference
Click to Download
Free to distribute with our compliments; we hope you will consider our paid training.