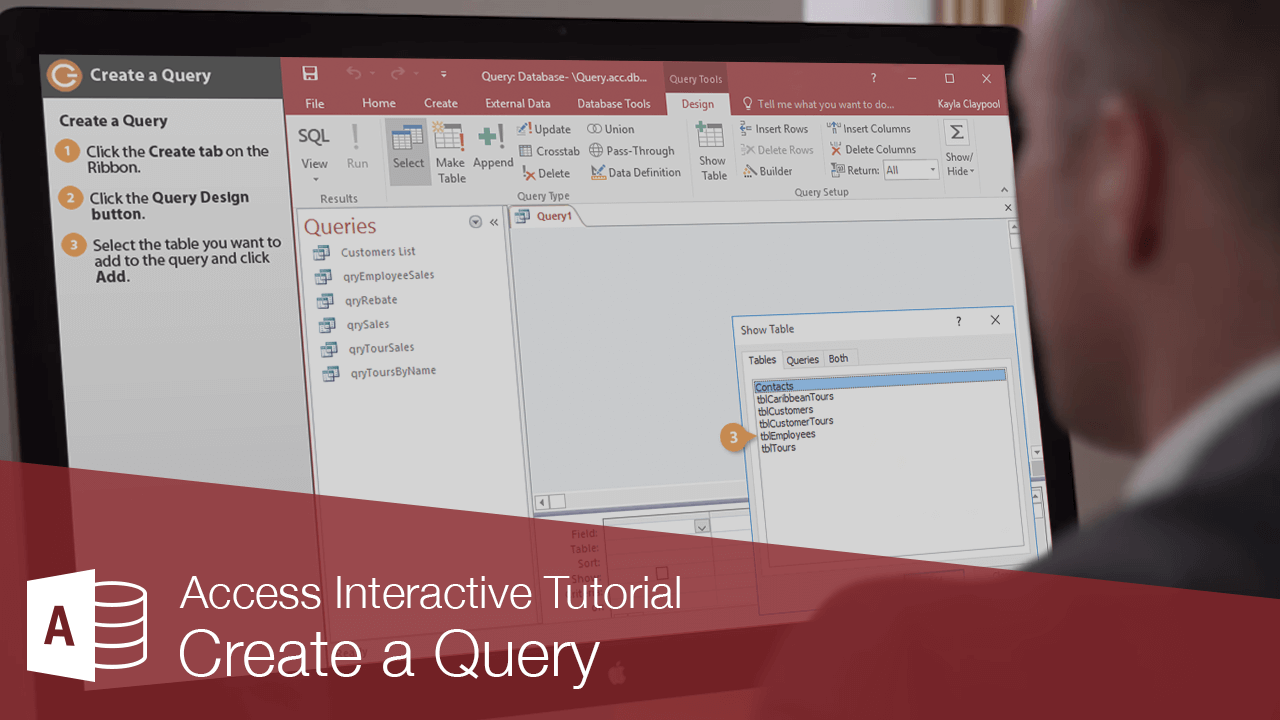 Click the Query Design button.

You can also use the Query Wizard to create a query. Click the Create tab on the ribbon and click the Query Wizard button in the Queries group.

The Show Table dialog box appears.

Follow the onscreen instructions to create the query.

Click Close.

You can also add tables to a query by dragging them from the Navigation Pane to the top half of the Query window.

The Query window appears in Design View. Notice that the window is split. The top half contains a box that displays all the fields in the table you added to the query. The bottom half of the screen contains a design grid, which is where you will add the fields you want to appear in your query.

Double-click each field you want to include in the query.

You can also add fields by dragging the field from the field list onto the design grid.

Often you will have to use the field list's scroll bar to scroll up or down the list to find a field.

Now you need to specify any criteria for the query. Enter the criteria in the design grid's Criteria row. For example, you could select to see only records whose City field contains "London", or you could enter K* to return only results that begin with K.

Enter any search criteria for the field in the Criteria box.

Deselect the Show box for a field if you want to use a field in a query but you don't want it to be displayed.

Once you have created a query, you'll want to save it to use later.

Click OK.

The query is saved and now appears in the Navigation Pane.

Your queries run when you open them through the Navigation Pane.

Open the query or click the Run button if you're in Design view.

Access displays the results of the query.

FREE Quick Reference

Click to Download

Free to distribute with our compliments; we hope you will consider our paid training.