Excel 2016 Mac Intermediate
Learn by doing—not watching—with interactive simulations.
Course Includes
Certificate of Achievement
Interactive Tutorials
Skills Assessments
What you'll learn:
How to create Bar, Column, Pie and Line Charts.
Build intermediate formulas using absolute & relative cell references.
Share & protect workbooks to collaborate with others.
Add conditional formatting to highlight data that meets your criteria.
Try sample lessons in the course outline shown below!
Proven Learning Method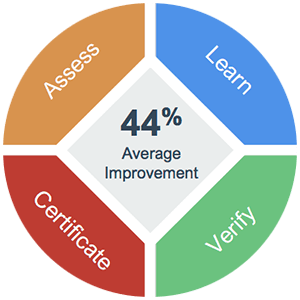 Skill
Assess
Learn
Verify
Improvement

Excel 2016 Mac Intermediate

Complete Course to Display Score

Create Charts

Click To Try

Not Started
Not Started
Not Started
Move and Resize
Not Started
Not Started
Not Started
Chart Types
Not Started
Not Started
Not Started
Layout and Styles
Not Started
Not Started
Not Started
Titles and Legends
Not Started
Not Started
Not Started
Gridlines, Labels, and Data Tables
Not Started
Not Started
Not Started
Chart Elements
Not Started
Not Started
Not Started
Modify Chart Data
Not Started
Not Started
Not Started
Filter Charts
Not Started
Not Started
Not Started
Trendlines
Not Started
Not Started
Not Started
Dual-Axis Charts
Not Started
Not Started
Not Started
Chart Templates
Not Started
Not Started
Not Started
Sparklines
Not Started
Not Started
Not Started
Page Size and Scale
Print Area and Page Breaks
Print Titles, Gridlines, and Headings
Headers and Footers
Margins and Orientation
Reference External Worksheets
Absolute and Relative References
Order of Operations
Cell and Range Names
Insert Functions
CONCATENATE Function
PMT Function
Display Formulas
Date Formulas
Outline and Subtotal
Data Validation
Flash Fill
Import and Export Data

Tables

Subscribe to unlock

Insert a Table
Sort Data
Filter Data
Add Rows and Columns
Table Styles
Remove Duplicates
Slicers
Structured References
Apply Conditional Formatting
Apply and Remove Cells Styles
Create and Modify Cell Styles
Apply a Theme
Cell Comments
Share Workbooks

Track Changes

Protect a Worksheet
Protect Workbook Structure
Password Protection